Saudara(i) di dalam Kristus,
Seri postingan kali ini (terakhir) akan menjelaskan tentang fitur-fitur baru yang ada di versi terbaru Alkitab/Quick Bible (versi 4.1).
Kini, aplikasi Alkitab telah terintegrasi sempurna dengan Kamus, PEDIA (panduan isi Alkitab), dan Tafsiran Alkitab yang dipublish oleh SABDA. Sementara fitur ini hanya khusus tersedia untuk aplikasi Alkitab.
Ayat yang dibuka di aplikasi Alkitab akan ada link tombol yang jika ditap maka akan langsung membuka aplikasi yang sesuai. Silakan unduh aplikasi-aplikasi tersebut:
– Kamus Alkitab versi 1.2.0 https://play.google.com/store/apps/details?id=org.sabda.kamus
– Tafsiran Alkitab versi 1.1.0 https://play.google.com/store/apps/details?id=org.sabda.tafsiran
– AlkiPEDIA versi 1.1.0 https://play.google.com/store/apps/details?id=org.sabda.pedia
Pilih salah satu ayat kemudian tekan menu yang ada di bagian atas untuk mengakses kamus/tafsiran/PEDIA.
Khusus untuk Kamus Alkitab, ketika ditap, maka kata-kata yang memiliki penjelasan di Kamus akan diberi garis bawah. Kemudian, anda bisa tap kata-kata tersebut dan membuka pop-up dialog berisi penjelasan tentang kata tersebut. Jika anda memerlukan penjelasan lebih lanjut, anda bisa langsung membuka aplikasi Kamus.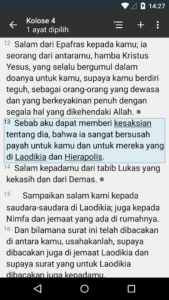 "kesaksian", "Laodikia", dan "Hierapolis" digarisbawah
tampilan dialog kamus di Alkitab
Anda juga bisa membuka halaman pengaturan > penggunaan > nyalakan opsi "otomatis cek kamus" untuk secara langsung menggarisbawahi kata-kata yang ada di Kamus ketika kita memilih salah satu ayat di aplikasi Alkitab (tidak perlu menekan tombol Kamus terlebih dahulu).
Kiranya fitur ini berguna bagi kita semakin mengerti dan mengenal Tuhan.
---
Fellow brothers and sisters in Christ,
This entry-series will explain about the recent changes in recent updated version of Alkitab/Quick Bible app (version 4.1).
We have plenty resources of Bible dictionary, commentaries, guide provided by SABDA ministry, but unfortunately most of the content are in Indonesian language. We do have some English commentaries, such as Matthew Henry Commentary, but for now this feature is only available in Alkitab. We will try add this feature in Quick Bible too for future updates.