Thanks to the suggestions of many people, we can now finally implement color highlights! Now your digital Bible is more colorful than ever!
Choose from 6 different colors
You can choose the highlight (or some Indonesians know it as "stabilo") color from the 6 options.
Initially I thought, how can we let the users choose the color, while allowing the users to change both the background and text colors? Won't the highlight be invisible at times, or even worse, be the same color as the text and make the text unreadable? Fortunately, we have a solution here (praise God! I didn't think of it before), which is by using transparency. The highlight color is applied 50% only (50% alpha for geeks). The result is great! See the same screens below when using different color themes. All the text are still greatly readable.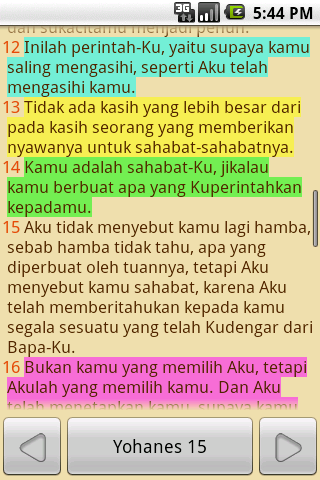 Another new feature is whole-word search. I got the idea when I was trying to search Adam in the New Testament, but I got so many "padamu" (on you) and "kepadamu" (onto you). Now you can search for +adam to get the exact-word, the person, Adam. Remember not to put spaces after the plus sign.
That person, Adam
Also, I would like to thank 10,000 downloaders of the Indonesian version! Thanks for all your encouraging suggestions and comments on the Android Market!