Ketika anda membagikan ayat (terutama melalui facebook), versi Alkitab yang akan ditampilkan
mungkin
berbeda dengan yang anda ingin bagikan. Contohnya, ketika anda membagikan ayat dari NIV, link yang diklik oleh orang lain melihat ayat yang anda bagikan mungkin akan menampilkan versi KJV atau yang lain. Alasannya, karena facebook hanya menerima direct link ketika membagikan sesuatu, dan link itu akan menuju ke halaman web yang menampilkan teks Alkitab. Ini menjadi masalah jika halaman web tersebut tidak menyediakan versi Alkitab yang sama seperti yang ingin anda bagikan.
Sekarang, ketika anda membagikan ayat, aplikasi ini akan membuat link otomatis untuk menampilkan versi Alkitab yang sesuai, karena teks-nya akan disimpan di dalam server kami. Jadi ketika anda menyalin dan membagi ayat, aplikasi ini otomatis menambahkan link untuk melihat ayat tersebut di halaman web.
Namun, jika anda ingin mematikan link tersebut, anda bisa ke penggunaan > Salin dan bagikan > matikan "link bagi ayat".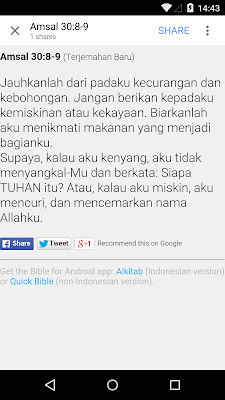 tampilan web link bagi ayat
opsi URL bagi ayat
URL ini berbeda setiap kali anda menyalin/membagi ayat. Bahkan jika pengguna lain menyalin dari ayat yang sama, link URL akan berbeda. Jika anda ingin tahu berapa kali ayat yang anda bagikan dilihat, anda bisa membuka halaman URL tersebut dan pilih menu "View Source" dari browser, dan bisa melihat jumlah "viewCount".

Apakah versi BETA itu? Bagaimana cara mengunduhnya?
Lihat di halaman ini untuk penjelasannya.
---
When you share verses (especially to facebook) the Bible version might be different than what you actually want to share. For example, if you share a verse from NIV, the link generated will redirect your friends to a verse in KJV or other versions. The reason for this is because facebook can only accept direct link when sharing, and the link will redirect to another website that provides web-based Bible reading text. But this could be a problem if the website doesn't provide the same Bible version as what you share.
Now, when you share verses, the app will generate a link for sharing that shows the verse in the exact same version you are currently viewing, because the actual verse text will be stored in our server.
So when you copy or share verses, it will automatically include the link to open it in web-browser. If you don't like this, you can go to Setting > Copying and sharing > disable the option "Share URL".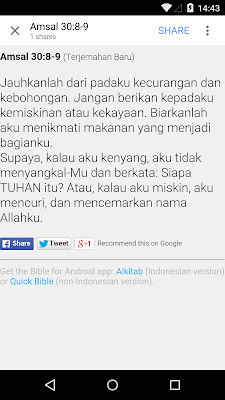 web-view when opening the shared verse
Share URL option
The URL is unique every time you copy or share. Even if a different user copies or shares the exact same verse, the URL will still be different. If you share a verse URL and you want to see about how many times your verse has been viewed, you can open the page and select the View Source menu on your browser, you can see a 'viewCount' message somewhere there.