Fellow brothers and sisters in Christ,
This entry-series will explain about the recent changes in recent updated version of Alkitab/Quick Bible app (version 4.1).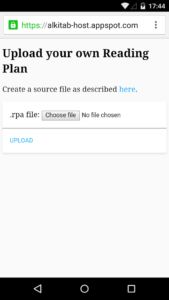 We have modified reading plan's "add" page. The most interesting feature is that you can add your own reading plan!
You can go to
this page
to upload your reading plan.
What you need to do is to create the reading plan source format (.rpa) file. We have documented the detailed explanation
here
. Please read it carefully and if you have questions, do not hesitate to contact us.
The layout also becomes web-view, with more organised structure consist of 3 section tabs (featured, newest, by ID) to accommodate more and more reading plans. "Featured" is the standard reading plans offered by us. "Newest" is the newest reading plans provided by us or you. "By ID" is where you can search reading plans by ID. Each reading plan has ID, stated beside its listed name with bracket. Also, after you have download it, the ID is written inside the left drawer in reading plan page (in the reading plan's description).
Please enjoy this feature, may it be useful to us!
---
Saudara(i) di dalam Kristus,
Seri Postingan kali ini akan menjelaskan tentang fitur-fitur baru yang ada di versi terbaru Alkitab/Quick Bible (versi 4.1).
Kami telah memperbarui halaman "unduh" atau "tambah" rencana baca. Fitur paling menariknya adalah kamu sekarang bisa menambahkan rencana bacamu sendiri! Silakan buka
halaman ini
untuk unggah rencana baca kamu.
Yang anda perlu lakukan adalah membuat source file untuk rencana baca (.rpa). Kami telah menjelaskannya secara rinci di
halaman ini
. Silakan baca dengan seksama, jika anda memiliki pertanyaan, silakan hubungi kami.
Halaman ini juga menjadi tampilan "web-view" dengan struktur yang lebih rapi menggunakan 3 tabs (featured, newest, by ID) untuk mengantisipasi jenis rencana baca yang akan semakin bertambah. "Featured" berisi rencana baca standar yang kami tawarkan. "Newest" adalah rencana baca terbaru yang berasal dari kami atau dari anda. "by ID" adalah halaman di mana anda bisa mencari rencana baca melalui IDnya masing-masing. Setiap rencana baca memiliki ID, yang ditulis di samping setiap nama rencana baca.
Silakan menikmati fitur ini, kira boleh berguna bagi kita semua!